No, you're not experiencing déjà vu. I haven't the slightest clue what happened but a previous version of this post was deleted. I posted it a couple hours ago and like some glitch in the Matrix it completely disappeared. It wasn't in my trashed posts or anywhere. Luckily, I follow my own blog so an email containing the post content was sent to my email as a backup measure for exactly this purpose. If anything like the spacing seems off, blame the mysterious deletion of the previous post. Now enjoy.
Map 177 shows which of the fifty states has each of the two types of divorce property rules in the United States. If, like me, you didn't know there were two types of divorce property rules, you're about to be educated. The two types, according to Yahoo Finance, are Equitable Distribution and Community Property. These are the ways your assets could be divided depending on where you live:
Community property: "Marital assets — and debts incurred by either spouse during the marriage — are divided 50/50. However, separate property (anything held in only one spouse's name, including property owned before marriage, given as a gift, or inherited) is not taken into account. Residents of Alaska can opt-in to a community property agreement.
Equitable distribution: Marital assets (not including separate property) are divided 'fairly' at a judge's discretion, taking into account each person's earning potential or income, financial needs, and personal assets" [Yahoo Finance].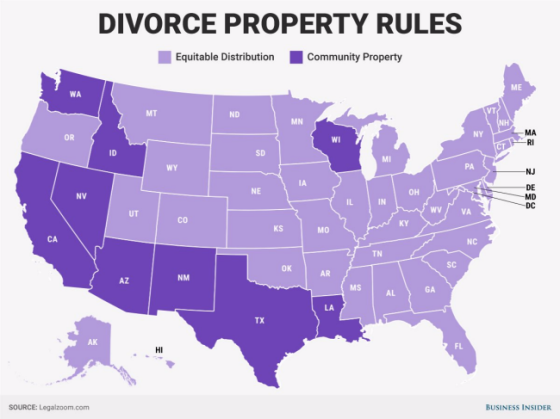 Did you get all that? Divorcees in the light purple states will go before a judge or other independent arbiter who will determine fairly what each partner will maintain of the combined assets based on their individual assets and income/income potential. Residents in the dark purple states, on the other hand, will basically split their assets in half if they decide to terminate their marriage (except in special circumstances like inheritances where only one of the previous members of the relationship may have been left an asset). I hope you are not going through a divorce (a nasty one at least, amicable would be alright), but if you are, you can find additional information on this website when you're done reading all of my Fun with Maps posts (yes, all of them). If you're going through a tough time with a relationship (or anything else), do not hesitate reach out to a friend or family member. Everybody can use some support which far outweighs the potential negatives such as embarrassment of asking for help.
* * * * *
Map 3 covered how many times I had visited each of the fifty states as of May 25th, 2014. That was quite some time ago so I figured it was time for an update in the form of Map 178!
This map is cool but requires comparison to the previous version. Have a gander.
Until next time,
Bonus Map Link: Another Map of the Star Wars Galaxy
Bonus Non-Map Link: McMansion Hell, my new favorite blog for light architecture reading!
Sources/Links: